Spring is here! Birds are chirping, the snow is melting and your house is in need of some TLC.  It's no surprise that the harsh winter months can leave your home looking a little worse for wear, so now is a great time to tackle those few special chores. We'll help you take a walk around your home and create a March To-Do list to focus on any post-winter maintenance to get your house in tip-top shape. So throw open those windows, blast some music and get ready for these deep cleaning to-do's!
Declutter
First, start with decluttering your space. It's good to get everything you can squared away before starting with the deep cleaning. Here are some major spots you'll want to make sure you cross off your to-do list:
Closets
As we transition into the new season it's a perfect time to conduct a wardrobe inventory. If there are some articles of clothing that you haven't worn in a year, it's probably time for you to get rid of them. This may seem painful but the feeling you get from seeing a clutter-free closet is worth it. Plus, donating these clothes is a great way to give back to those less fortunate.
Pantry and Refrigerator
During the winter we tend to stock up on food to help take us through our temporary hibernation; food we may never actually touch. Check expiry dates and throw away anything that has passed its prime. For unopened items you know you'll never eat, consider donating them to your local food bank. As you go through your refrigerator it is the perfect time to give it a good wipe-down before placing your food back in. If you have an ice cube and water dispenser, change the filter now so you'll get fresh tasting water.   
Kitchen Exhaust Hood and Oven
Since you're in the kitchen, let's take a look at your other much-used appliances! After a winter full of soups, stews, and chilis, it may be time to give your exhaust hood a thorough clean. Grease can build up on the range hood filter and cause it to lose its effectiveness. Fill your sink with hot, soapy water, and baking soda (for that extra powerful clean) then submerge your filter and give it a good scrub. Now's the time to use your oven's handy self-cleaning feature to remove the food drips and spills after all that holiday cooking. Show your old-school (new varieties have self cleaning functions) coffee maker some love and clean it with vinegar, run an empty cycle through to clear everything out afterwards and your next cup will be truly fresh.
Spring Cleaning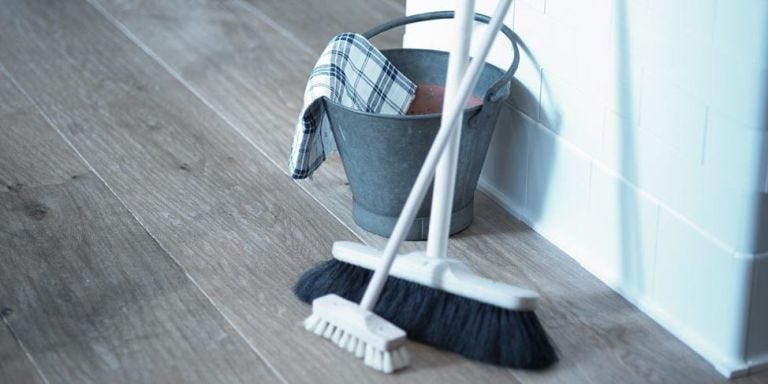 Now that everything has been tidied and removed it's time to roll up those sleeves and really clean!
Windows
Wash windows, wipe down sills, and clean your screens by vacuuming first and then rinsing with a hose outside. This is always nice to cross off your to-do list first as it will give you the perfect view of those first blooms of spring and really let the sun into your home. However, if you're in a high pollen area, you may want to wait until pollen season is over to do this or you may have to repeat.
Floors
Wash and polish those hardwood floors that caught the brunt of the damage from winter boots and wet paws. Then make the tile grout in your kitchen and bathrooms absolutely shine using an old toothbrush, some vinegar and baking soda. Grout can start to look dirty and stained now that the sun is shining again and pointing out these little spots that were hidden in the darkness of winter.
Electronics
Wipe down all of your electronics with LCD or microfiber cloths to rub away fingerprints and dust. TVs, computer screens, printers, DVD players, and keyboards should all be looked after to make sure they stay free of dust particles that can affect their use.
Vents
Take off vent covers and clean them with soap and water; using a vacuum to get any dust in those nooks and crannies. Be sure to search out those often overlooked vents in your bathroom or underneath furniture! Plus, have your HVAC ducts professionally cleaned now that winter is over.
Washer/Dryer
If you have an HE washer, run the cleaning cycle with bleach to cut down on mold and mildew smells. Also, it's extremely important to remember to regularly vacuum lint out from the dryer vent and hose to avoid fires! If it's been a few years, it's important to have your dryer vents professionally cleaned to make sure everything is safe.
Doorways
Get ready for rain! The season will be upon us before you know it so now's the time to prepare. Make sure you have indoor and outdoor mats for wiping shoes and get an umbrella stand or colourful tub for easy in-and-out access for all your wet umbrellas. If you mats left over from winter, consider switching them for a fun spring pattern to help brighten up the area.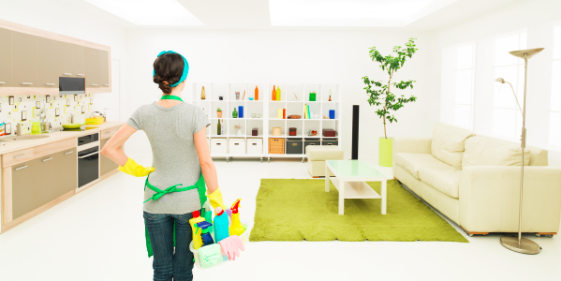 And there you have it! We hope this to-do list will help you plan out this month's chores to get your home feeling light and airy for the coming warm weather. From all of us at Skyhomes, we wish everyone a happy spring and pain-free spring cleaning.