Are you tired of chaotic big city living? Do you long for fresh air, bright starlit nights, and friendly faces? If so, the historic and picturesque Village of Kleinburg, an easy commute from Toronto, maybe just the place for you and your family. Along with its beauty, Kleinburg is well known for its quaint main street with charming boutiques and upscale restaurants and enjoyable family activities such as the McMichael Gallery and the Kortright Centre for Conservation. Here are five reasons you will love living in Kleinburg!
1.  Kleinburg is a Quick, 40 Kilometer Commute to Toronto
The Village of Kleinburg is located in the city of Vaughan between two branches of the Humber River and bordered by Highway 27 on the west and Stegman's Mill Road to the east. Kleinburg is only 40 kilometres (25 miles) from Toronto so residents can stay connected to the vast opportunities of the big city, yet avoid unwanted urban chaos. There are also three transit systems currently available in Vaughan: York Region Transit (YRT)/Viva,  Toronto Transit Commission (TTC), and GO Transit.
2.  Active Community Involvement in Kleinburg Allows Families and Businesses to Thrive
Kleinburg is a proud community that works hard to promote and protect the growth, tourism and economic health in their community. Two organizations that help to maintain Kleinburg's beauty and thriving economic and community success include the Kleinburg Area Ratepayers' Association (KARA) and The Kleinburg Chapter of the Humber Valley Heritage Trail Association.
3. Kleinburg Offers Year-Round Outdoor and Recreational Activities for All Ages
Kleinburg's outdoor and recreational opportunities provide endless enjoyment for active families and individuals.
Hike, bike and picnic the Humber Valley Heritage Trail which runs through the Humber River Valley from the Trans Canada Trail on Humber Station Road near Albion Hills Conservation Area in the Town of Caledon, through Bolton, to Bindertwine Park in Kleinburg.
The Kortright Centre for Conservation is Ontario's premier environmental and renewable energy education and demonstration centre. The Centre sits on 325 hectares of pristine woodlands with beautiful trails for hiking and biking and also several lovely picnic areas.
The Copper Creek Golf Club sits among the rolling hills and forests of the Humber River Valley in Kleinburg and was voted the best public golf course in all of Canada.
4 .  Kleinburg's Numerous Cultural Attractions and Popular Community Festivals are Famous Across Canada
Kleinburg is known for its many charming attractions and events including having one of the most pleasant main streets in the greater Toronto area. The charming street is lined with small shops, luxury spas, upscale restaurants and European-inspired cafés. Another unique and beautiful cultural attraction in Kleinburg is the McMichael Gallery. The McMichael Gallery has a remarkable collection of nearly 6,000 artworks, including many by members of the Group of Seven, who are considered some of Canada's most famous artists.
Other attractions in Kleinburg include the annual BinderTwine Festival celebrating Kleinberg's farming history, Canada Day, the Annual Christmas Tree Lighting, the True North February Festival, the ArtBeat in Kleinburg, and more.
5.  Kleinburg Offers Amazing Housing Opportunities Including the SkyHomes' Exquisite Faberge Collection of Kleinburg Crown Estates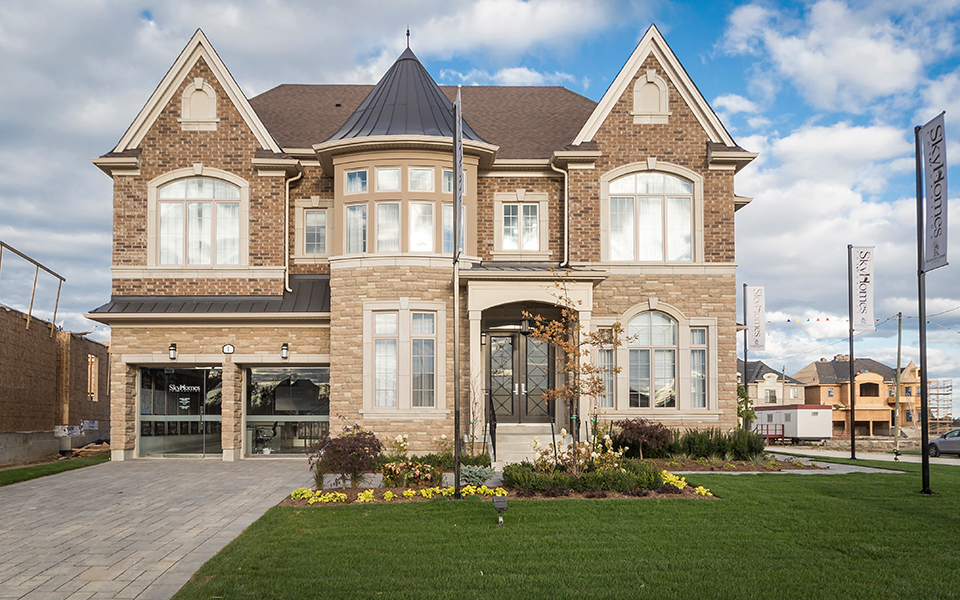 SkyHomes' spectacular Kleinburg Crown Estates is a prestigious detached home community with exceptional exterior and interior designs at an amazing price. Crown Estates' transcendent designs and styles of executive homes are settled within a private ravine setting, only minutes from Kleinburg's finest amenities.

Whether you are single, a young family, or a retiree, Kleinburg may be the place for you to escape the hectic big city, and enjoy the quieter, slower pace of village life. Visit SkyHomes for more information on why you will love living in the peaceful tranquility of Kleinburg.