At SkyHomes we believe that quality is the result of high intention, effort and skillful execution. Selecting these top kitchen materials will create the kitchen of your dreams, with enduring design and craftsmanship. Read on as SkyHomes lists the most popular kitchen materials for your home.
Granite
Granite is often considered the countertop material of choice. It defines elegance in a kitchen. As the use of granite becomes more widespread, the price comes down. It holds up to heat; comes in a range of almost 3000 colours and  will last a lifetime. New sealers are almost maintenance-free, in fact it has the 2nd highest hardness rating after diamonds. Granite is limited to the style and colours that nature has produced, and is known for being expensive however it provides value to your home.
Caesarstone & Quarts
Caesarstone is a countertop material made of engineered quartz, a very dense and porous material that is also resistant to scratches, cracks, and stains. Even if fluids like coffee, tea or food colouring are spilled on this surface, they can be easily cleaned with water and a mild detergent. Since Caesarstone is made with a non-porous material, there is no need to worry about bacteria or germs. The luster of the surface will also remain unchanged since quartz is a high-density material. Both of these materials look great in any style of kitchen and are available in a variety of colours, patterns and textures.
Porcelain Tile
Porcelain floor tile has sand added to the clay mixture and is made with heat and pressure to produce a tile that's harder, denser and less porous than regular ceramic tile. It's a good choice for high-traffic areas, kitchens and bathrooms. Glazed porcelain tile has a glass-like coating applied during firing to produce colored surface. Unglazed porcelain has color added to the clay mixture so the color and pattern is carried all the way through the tile. Any wear or scratches won't show on unglazed porcelain.
Ceramic Tile
Ceramic tiles are thin slabs of clay or other inorganic materials, hardened by oven firing and usually coated with glaze so that they don't need sealing.  This material doesn't harbour germs and makes floors easy to clean with just hot water, a steam mop or standard cleaning products. Ceramic is easy to work with, and cost effective, and won't crack or deform in heat or frost.  Available in a multitude of colours, patterns & textures, their colour are known for not fading and is a low cost choice.
Oak Cabinetry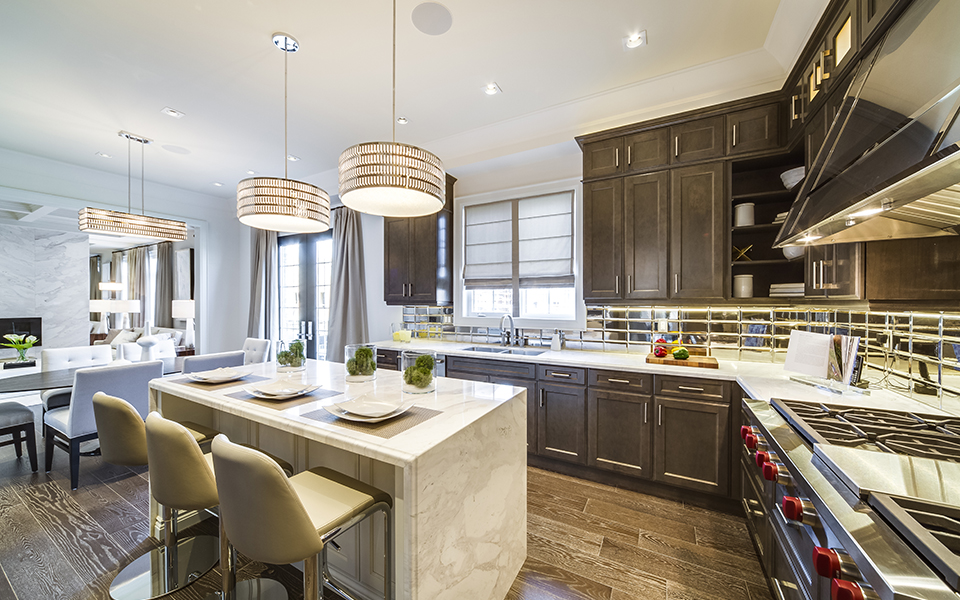 Oak is one of the best-selling woods for kitchen cabinets and it's not hard to see why. The wood is a heavy, strong hardwood that is durable. This wood makes for a traditional look that stays attractive as trends come and go.Natural oak wood has variations ranging from light tan to dark red, and includes pink, beige and brown colours in between. Stains and shellacs increase the possible colour variations in finished cabinets.  Custom designed kitchen cabinetry, with extended length uppers, matching crown moulding and a light valence will give your kitchen a look of grandeur, while increasing its resale value and overall functionality.
Stainless Steel
The neutral look of stainless steel can complement nearly any home. Whether you have a kitchen full of natural wood cabinets or a modern design with white, marble countertops, stainless steel appliances will blend seamlessly. Stainless steel kitchen sinks are a favourite of homeowners. They are durable and long-lasting, which are two of the most important qualities to look at when choosing what material you will use. Stainless steel is non-porous, which means it will not absorb stains. The surface is also scratch resistant and easy to clean.  Cleanup is a breeze on stainless steel surfaces. Use a mild soap and warm water to keep your appliances sparkling and tidy. Because of the increasing popularity of stainless steel, it's easy to find coordinating items like blenders, mixers, and toasters in the same finish for a cohesive look!
With so many choices at homeowners' fingertips, picking out a kitchen counter is no easy task. These popular kitchen countertop materials will make the kitchen of your dreams that last both in style and craftsmanship.