If you're a huge fan of the eclectic Bohemian style, you are going to adore these DIY home décor projects! From eye-catching mirrors to rugs and even a great decoupaged serving tray, there is a boho-chic DIY project in here for everyone. Read further for vintage décor ideas that bring that bohemian vibe into your home.
Boho Mirror
This is a DIY project you're going to fall in love with, and it's so simple! Made from an ordinary mirror, all you have to do is decorate the frame to get that great boho appeal. Painting the frame in a light blue really helps the piece to stand out while allowing the distressed wood pattern to come through; adding a lot of character. Finish this project off with flowers and pearls to really make it perfect for adding to your bohemian space. 
Decoupaged Trays
 A decoupaged tray is perfect for adding that touch of bohemian-inspired décor to your home. They are also super easy to make! Hit up your local thrift store to find old ceramic or silver trays and then use wallpaper or other similar paper to create that multi-tonal print look. These make for great jewelry holders or just about anything you want. 
Hanging Mason Jar Lanterns
 Mason jars are great to use for these DIY projects! They're so incredibly versatile that they work with many different design schemes; including the vintage bohemian style. This hanging mason jar lantern project is super easy and adds so much charm to your home or front porch. Simply add however many jars your rope will hold and hang them up. As a tip, you can frost or tint the jars, or place beads on the twine to give them that little extra pop! Try different knot patterns as well to really get into that boho aesthetic. 
Birch Wood Tealight Holder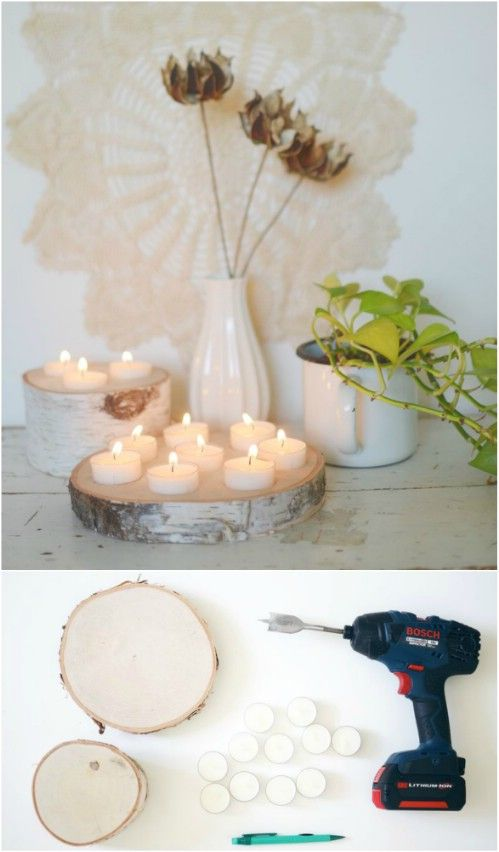 A tealight candle holder made from a birchwood ring is absolutely gorgeous and pretty easy to do! Also, it can be free if you happen to have the wood and tealight candles to use. If you get your hands on different sized rings, you'll find they come together to create a stunning centrepiece, or a lovely candle display when stacked. This project really embraces the natural aspect of bohemian design.
Kilim Rug
This DIY kilim rug is super easy to make and gives you so much room for creativity! Perfect in the entryway, kitchen, or anywhere you wanted to add that little bit of that boho charm. Sew together a few, inexpensive straw mats, before setting yourself to painting different symbols on them that express yourself and really capture the bohemian vibe.
You can make so many things to bring a bohemian vibe into your home! Many of which can be made with stuff that you probably already have on hand, so they are basically free. We hope this list helped to spur your imagination so that you can bring the care-free vintage bohemian style into your home. For more tips and tricks like these be sure to follow SkyHomes' blog series.