Kleinburg Crown Estates' Faberge Collection features a luxurious collection of executive homes in a natural ravine, giving you and your family a private setting. These intricately built homes provide every amenity and comfort you can imagine. Although tucked away from the hustle and bustle of city life, these homes are only moments away from the various boutiques, restaurants, and other comforts of the historical, yet trendy, Village of Kleinburg. Be sure to follow along for your exclusive look at the Diamond Model from this collection.   
Outside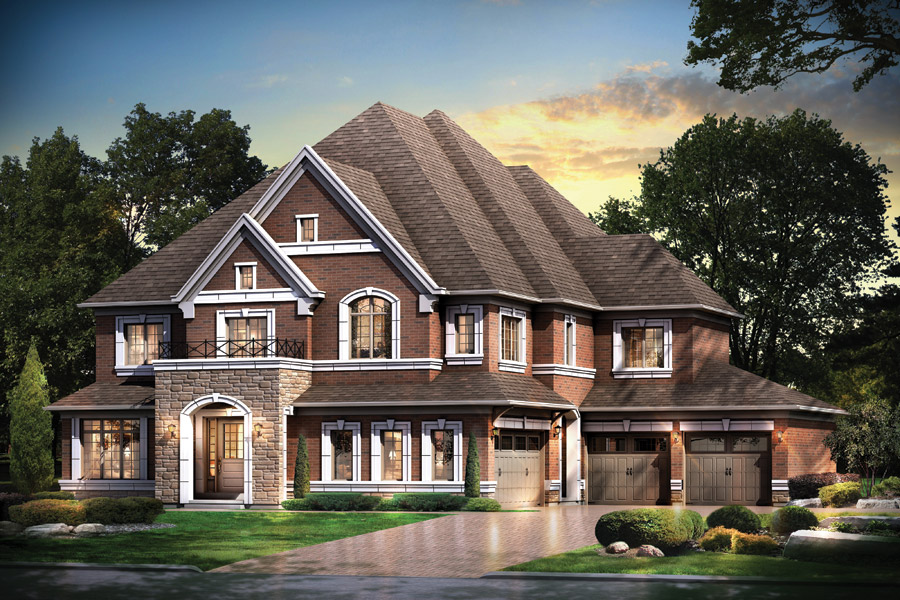 The Diamond Model is one of the four types of master-crafted homes featured in the Kleinburg Crown Estates' Faberge Collection. There are actually two elevation options available for you to choose from when buying a Diamond Model home! Elevation A (featured above) is a 5046 square foot house with a muted tone of natural browns and beiges. The architecture has plenty of windows throughout and a pronounced portico that really draws the eye. Elevation B, on the other hand, is a 5101 square foot home with grey roofing and stonework, as well as wonderful red bricking. This option has marvelously big windows throughout and a tile roofed portico to match.   
Main Floor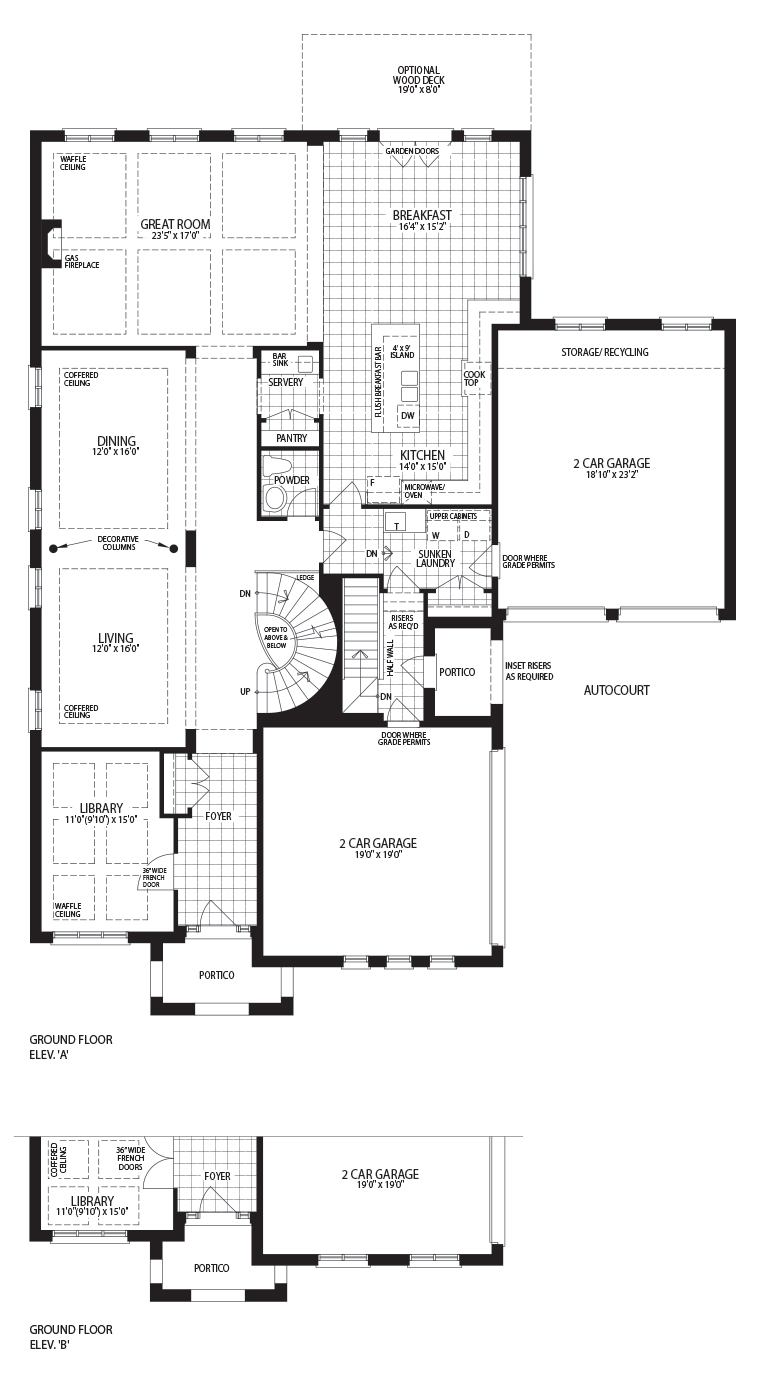 Although you can certainly enter your new Diamond Home from either of the two car garages, we want to take you through the main entrance. As you walk in from the portico you are welcomed by the large foyer leading onward to the grand hallway leading all the way back to the great room, where the library opens up alongside. Walking forward you will pass the immense, open concept dining and living room as well as the grand staircase leading to the second floor and basement. However, don't stop here! As you make your way further down the hallway you will find yourself in the great room, greeted by large windows facing out into our backyard. Although it may be hard, we recommend you tear yourself away from the beautiful fireplace provided here and make your way to the brilliantly built kitchen. The expansive room gives you room for a breakfast area, a separated island, and plenty of counter space that will leave any chef salivating to cook up family meals in this kitchen!
Second Floor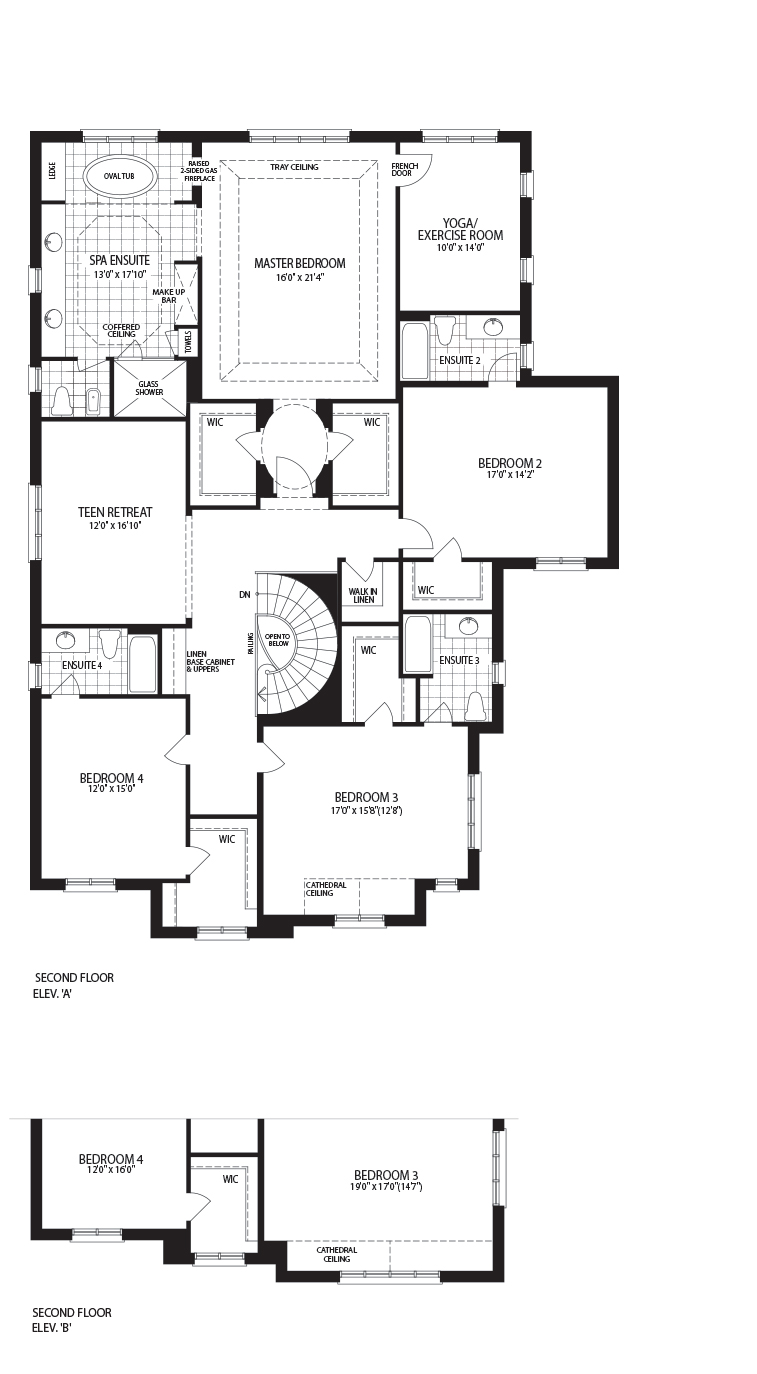 The second floor of the Diamond Model home is another example of the beautiful craftsmanship of these buildings. Featuring three bedrooms, a master bedroom, and a 'teen retreat' this floor is thoughtfully laid out. Three bedrooms and the master have a full ensuite bathroom and walk in closet, with the master bedroom boasting a spa ensuite complete with oval tub, glass shower, makeup bar, and a two-sided gas fireplace. Upon entering the master bedroom you are met by two spacious walk in closets, before making your way through the room and into the adjoining yoga/ exercise room! Keep an eye out for the luxury finishes throughout this floor which brings out the extravagance of Kleinburg Crown's interior design.
Basement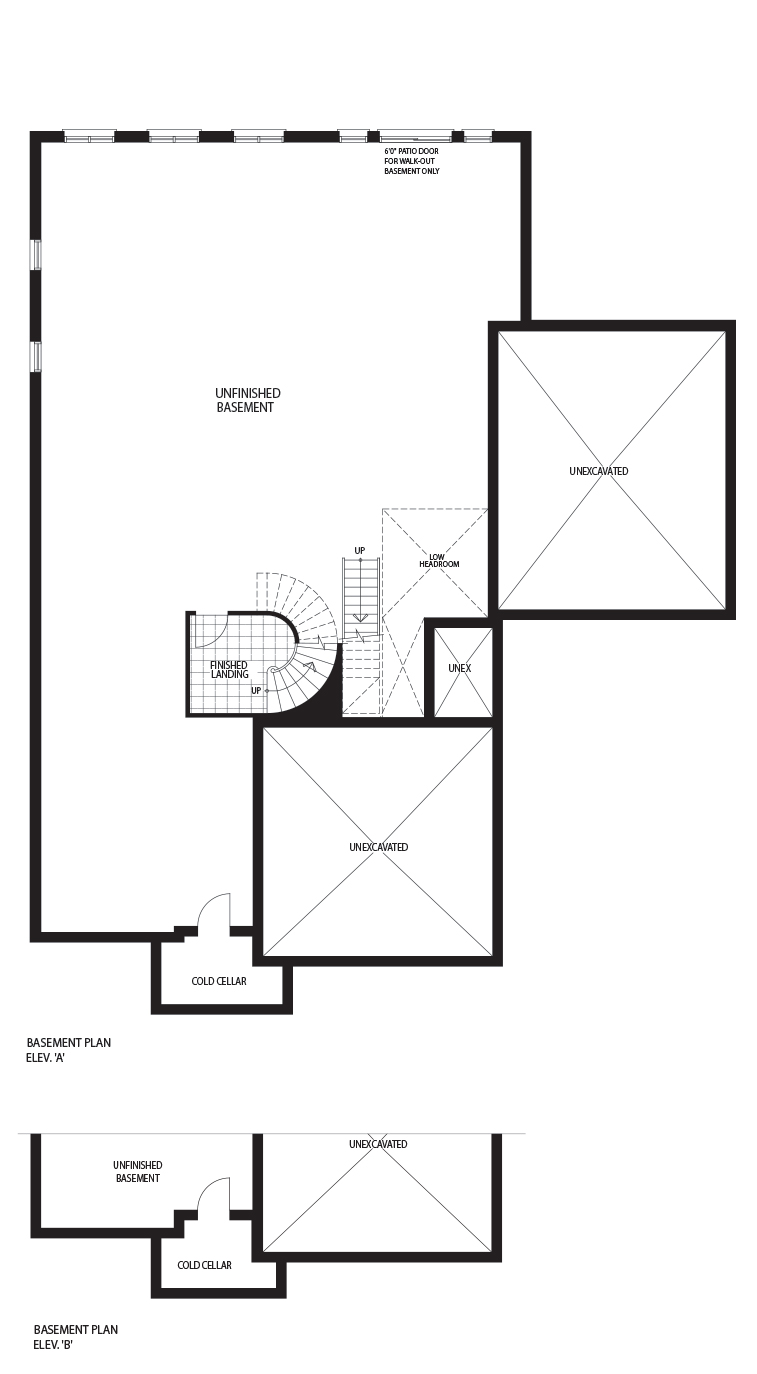 Finishing off our tour of the Diamond Model home, we make our way down to the basement. This spacious area runs the entire length of the home, offering a myriad of different possibilities for you and your family. Mainly open concept, except for the built-in cold cellar, the basement provides the opportunity for you to make use of the space in whatever way your growing family needs. Whether it be for storage, an entertainment centre, or a recreation for the kids, this space is going to serve you and your family extremely well.
The Diamond Model home is a perfect example of luxury meeting practicality that Kleinburg Crown Estates offers. Spacious rooms, gorgeous finishes, convenient organized closet space and flexible areas lend themselves to the needs of a growing family as well as a luxurious executive lifestyle. Be sure to check out the SkyHomes blog for more information coming up on our model homes.